2023 Santa's Local Workshop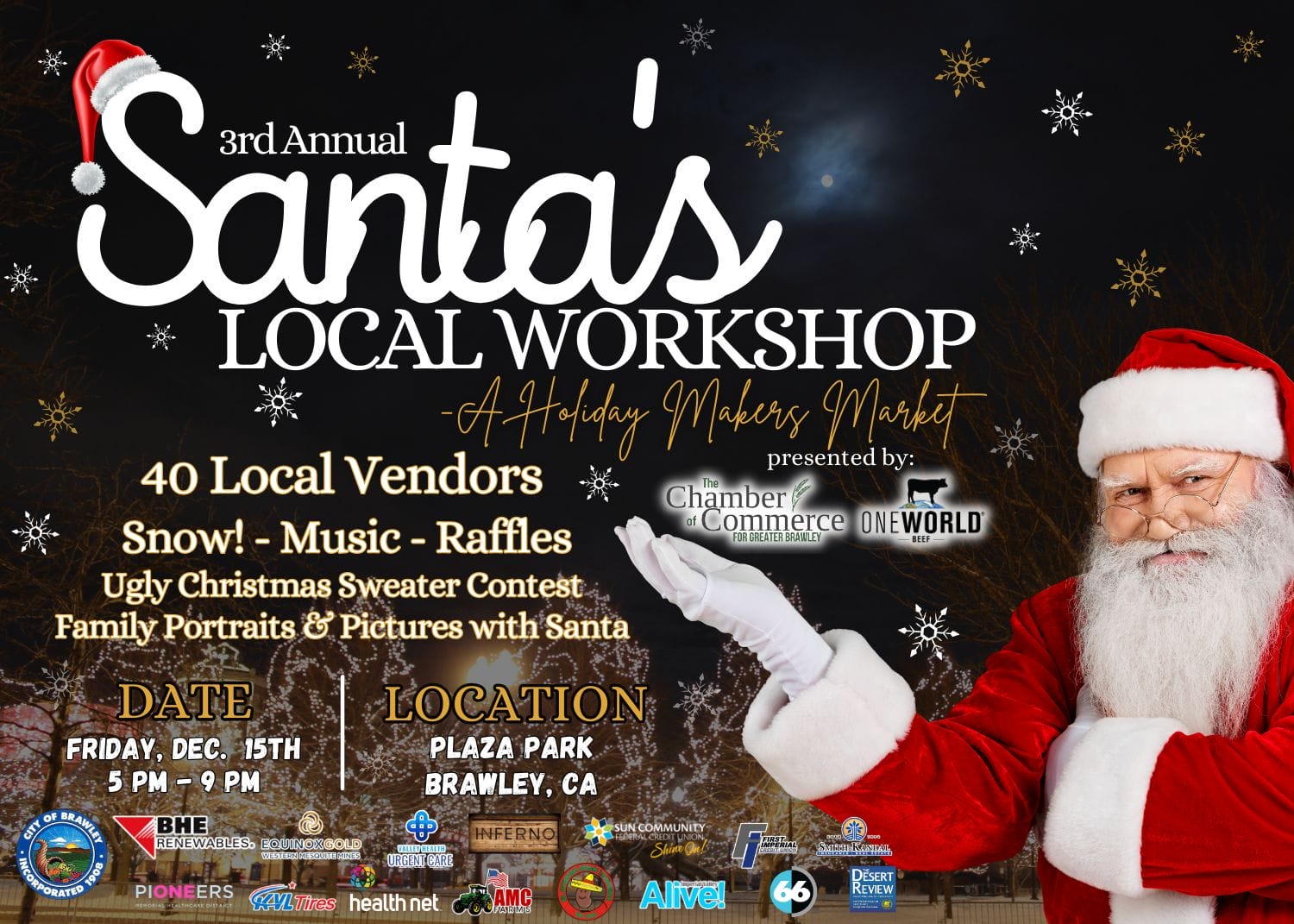 𝙏𝙬𝙖𝙨 𝙩𝙝𝙚 𝙣𝙞𝙜𝙝𝙩 𝙗𝙚𝙛𝙤𝙧𝙚 𝘾𝙝𝙧𝙞𝙨𝙩𝙢𝙖𝙨...
When all through the house, not a creature was stirring, not even a mouse...
It was when 𝗧𝗵𝗲 𝗖𝗵𝗮𝗺𝗯𝗲𝗿 𝗼𝗳 𝗖𝗼𝗺𝗺𝗲𝗿𝗰𝗲 𝗳𝗼𝗿 𝗚𝗿𝗲𝗮𝘁𝗲𝗿 𝗕𝗿𝗮𝘄𝗹𝗲𝘆 a Santa's Local Workshop announced
An opportunity to buy a purse, some tacos or even a blouse!
With over 40 local vendors, a petting zoo & a huge pile of Snow
Bring your kids, your neighbors or anyone you know!
Come see Mayor Castro and the City of Brawley Tree Lighting
You'll be on Santa's Naughty list if you get caught fighting
Tons of food vendors will be selling delicious food
Nothing like gift vendors to get you in the holiday mood
The location is Main St and Plaza on the 15th of December,
Mark your calendars, make sure you remember!
With holiday spirit, come and shop till you drop, at the 3rd Annual 2023 Santa's Local Workshop!
𝗟𝗜𝗠𝗜𝗧𝗘𝗗 𝗩𝗘𝗡𝗗𝗢𝗥 𝗦𝗣𝗔𝗖𝗘𝗦 – Vendor Applications are available at The Chamber office Monday through Friday from 8AM-5PM.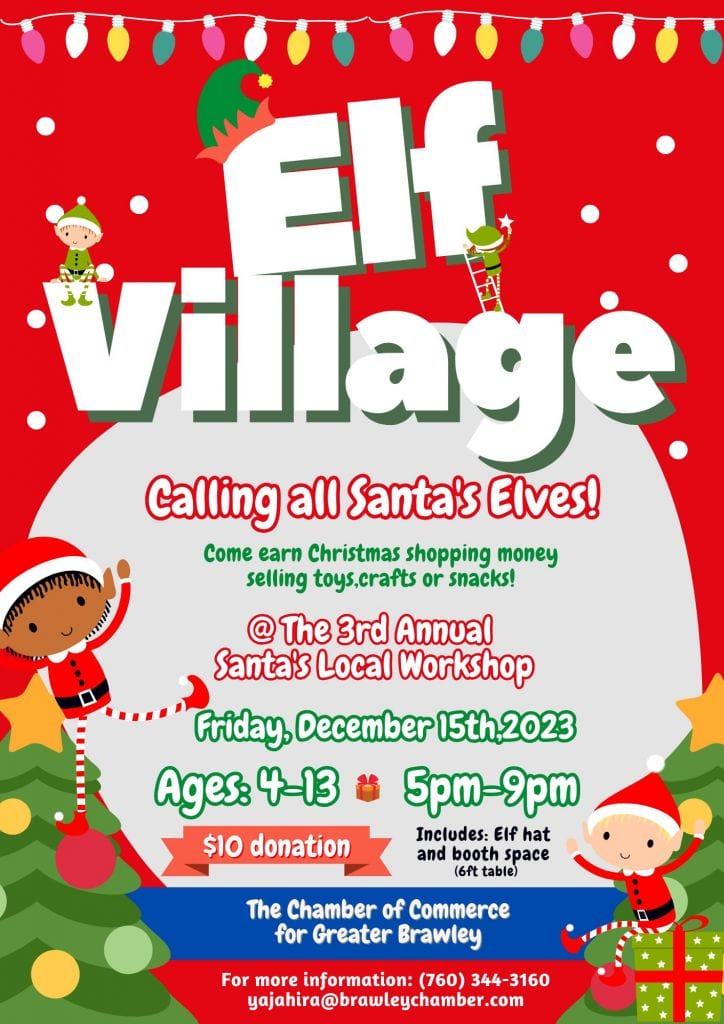 𝑪𝒂𝒍𝒍𝒊𝒏𝒈 𝒂𝒍𝒍 𝑺𝒂𝒏𝒕𝒂'𝒔 𝒍𝒊𝒍 𝒆𝒍𝒗𝒆𝒔!!
Do you have a little one at home with entrepreneurial spirit who is eager to make their own money for their Christmas shopping list!?
For the first time ever, 𝑻𝒉𝒆 𝑪𝒉𝒂𝒎𝒃𝒆𝒓 𝒐𝒇 𝑪𝒐𝒎𝒎𝒆𝒓𝒄𝒆 𝒇𝒐𝒓 𝑮𝒓𝒆𝒂𝒕𝒆𝒓 𝑩𝒓𝒂𝒘𝒍𝒆𝒚 presents 𝐄𝐥𝐟 𝐕𝐢𝐥𝐥𝐚𝐠𝐞 during our 3rd Annual Santa's Local Workshop Christmas event on December 15th, 2023!
𝐄𝐥𝐟 𝐕𝐢𝐥𝐥𝐚𝐠𝐞 will feature a petting zoo, a snow pile to play in, and 20 mini booths exclusive to little elves who can only sell toys, slime, crafts, and even snacks!
$𝟏𝟎 𝐝𝐨𝐧𝐚𝐭𝐢𝐨𝐧 (All donations will benefit a local charity)
. Donation includes an Elf hat to wear during event. Chamber staff will also provide a 6ft table for mini booth.
Elves must be between the ages of 4 and 13
*𝑳𝒊𝒎𝒊𝒕𝒆𝒅 𝑺𝒑𝒂𝒄𝒆 𝑨𝒗𝒂𝒊𝒍𝒂𝒃𝒍𝒆*